Central is a place where you can belong before you believe, a place where it's ok to not be ok, where no matter what you've done or what's been done to you, you are welcome.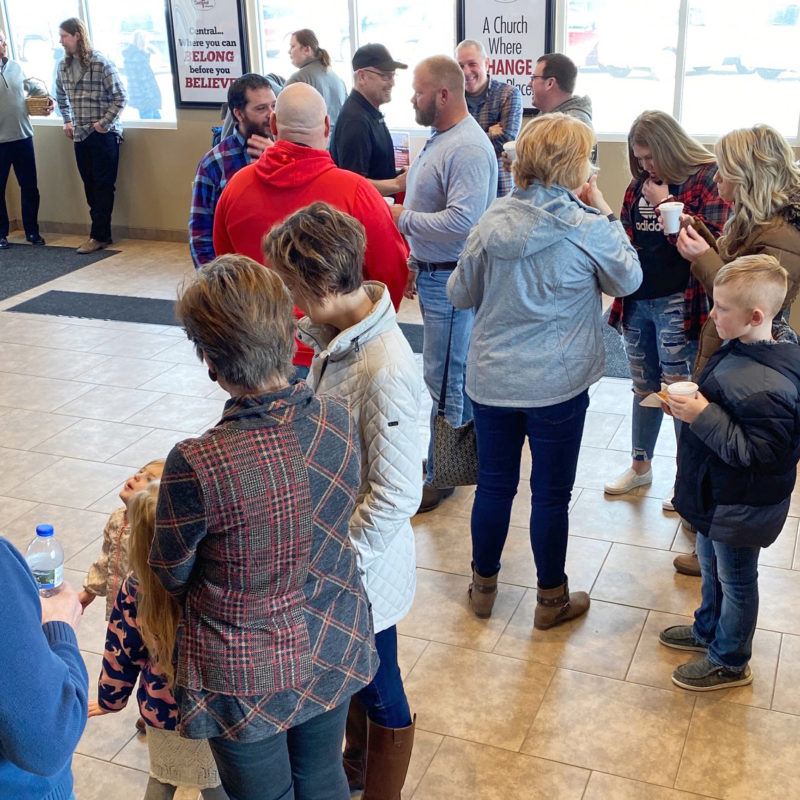 REAL
Because we are just regular people who have the ups and downs that everyone else faces. We don't claim to be perfect or have life figured out.
DIFFERENT
Because we do not have the typical atmosphere and decor of more traditional churches. The atmosphere at Central is electric, the music is edgy, and you will see people wearing jeans and T-shirts. You will find that Central staff members and fellow attenders are down to earth, and the messages you hear will apply directly to your everyday life.
RELEVANT
Because we speak our culture's language. From the parking lot to the inside of the building we work hard to make sure all we say and do is relevant to our culture. We utilize the latest in computer technology, dramas, special lighting, film clips and music that all reflect what can be seen and heard in today's media rich world. Central Church is a modern church with an ancient message!
WHAT WE BELIEVE
We believe that God is Three Persons in One – Father, Son and Holy Spirit. We hold to the doctrine of the Trinity. All three Persons are co-equal and co-eternal.
WHERE THE BIBLE SPEAKS WE SPEAK
We believe that the Bible, both Old and New Testaments, is the inspired, inerrant, infallible Word of God. We believe that the New Testament is the new covenant by which all believers are to follow as the standard of faith and practice. We acknowledge the Old Testament is a school master which shows the sinfulness of man, as well as, points to Jesus the coming Messiah. We follow no creed but Christ. We believe that where the Bible speaks, we speak; where the Bible is silent we are silent. We believe that in essentials unity, in opinions liberty, and in all things love.
We Believe that Jesus is the Christ the Son of the Living God. We believe that Jesus was born of the virgin Mary and was tempted in all ways as we are, yet was without sin.
THE HOLY SPIRIT EMPOWERS CHRISTIANS
We believe that the Holy Spirit is the Third Person of the Godhead (Trinity). The Holy Spirit dwells with a person when they become a Christian and empowers the believer for works of service and sanctification. The Holy Spirit is our Helper in our walk of faith. The Spirit gives gifts to all believers for the purpose of mutual encouragement and edification for the growth of the Body of Christ.
We believe that mankind is evil from its youth, and that at an early age in a person's life he or she will sin against God. We believe that all sinners are bound to hell without faith in Christ. We believe that man, who was created in the image of God, became depraved through sin. Such a fallen nature is seen in every sinner. We believe in a literal hell which is called the lake of fire that burns forever.
We believe that we are saved by the grace of God through faith in Jesus Christ. Grace is God's unmerited favor towards the sinner. Faith is the total trust in Jesus Christ, and His death, burial, and resurrection. Good works are the natural outcome of a dynamic faith.
We believe that it should be the desire of every believer to be baptized in water as a showing of their decision to follow Christ. We believe baptism is a "next step" in your faith journey.
We believe the mission of the local church is to seek and save all who are lost in sin and to make disciples of those who have accepted salvation through the sacrificial death of Jesus Christ. We believe "the Church" is the global Body of Christ and consists of the people who, throughout time, have accepted God's offer of redemption (regardless of religious denomination) through the sacrificial death of His son Jesus Christ.
Ephesians 1:22 | Ephesians 2:19-22 | Hebrews 12:23 | John 17:11 | John 17:20-23
We believe in a literal, second coming of the Lord Jesus Christ. Such a return will be a sudden, glorious, spectacular coming of Christ for His Church. God will judge all unbelievers at the white judgement throne with the result of their being cast into eternal punishment. All believers shall be judged and rewarded according to their works, yet all shall enter eternal life in heaven. Jesus is Coming Back!
Core Values
Jesus Christ is the one and true Son of God the Father. Jesus was with the Father during the creation of the world and continues to sit on the right hand of God. Jesus was born from a virgin birth, baptized by the Holy Spirit, was crucified on the cross, and rose again for the forgiveness of sins. We believe Jesus is the one and only way to salvation and eternal life with God the Father.
Hebrews 12:2 | Matthew 3:16-17 | Mark 1:9-11 | Matthew 17:5 | John 14:6 | Romans 10:9 | John 1:1-3 | Matthew 16:13-17
We believe that the word of God is sufficient as our sole source of authority. One of the names of Christ is Wonderful Counselor, He is the highest and ultimate One to whom we may turn in counsel. Scripture is so powerful and comprehensive that it can convert or transform the entire person changing someone into precisely the person God wants them to be. The bible is God's standard for judging the life and eternal destiny of every person.
Isaiah 9:6 | 2 Timothy 3:16 | Psalm 19:7-9
We understand that prayer is our direct link to God and by offering our prayers and praises; we will connect with Him on a more intimate level. Prayer is a weapon against evil, a tool to overcome temptation, an agent for healing and away for us to focus on others and God instead of ourselves. God will provide everything we need when we are faithful in prayer.
Luke 11: 9-10 | Romans 12:11-13 | Philippians 4:6-7 | James 5:14-16
If you were on trial for being a Christian, would there be enough evidence to
convict you? We believe that God has called us as Christians to stand out, to be
different, to be a light on the hill, in order that God's love can be communicated
to unbelievers, not just through our words, but through our actions. We strive to
live according to God's word. Knowing that we can never be perfect, we thank
God for his mercy and forgiveness which inspires us to forgive those who have
sinned against us.
Galatians 5:19-23 | Colossians 3:5-15
We believe lost people matter to God and are hopeless without Him. Everyone who calls on the Lord's name will be saved. But they can't call on Him unless they have first heard about Him and then believed in Him. We must reach our friends, family, and community with this message. We must equip each follower to share Christ, develop relationships with the lost, understand the process of evangelism, and balancing ministry to give a clear and compelling presentation of the gospel. As believers we must act with sympathy, love, compassion and humility. Central Christian is a place where you can belong before you believe.
Luke 5:30-32 | Luke 15:1-32 | Matthew 18:14 | Matthew 28:19-20 | Acts 4:12
Building a Family of Faith
People need close relationships where they can love and be loved, know and be
known. In fact, it is in relating with others and participating in community that profound life-change takes place within the individual. We emphasize the
importance of fostering unity within the Central family, being eager to reconcile our conflicts and maintain a spirit of peace in honor of Jesus Christ. We value building up strong marriages and families, where God's love is taught and lived out, where husbands love their wives as Christ loved the church, where wives respect their husbands, where the hearts of the parents are turned toward their children, and the hearts of the children toward their parents.
John 13:34 | Eph. 5:1-2 | 1 Thes. 5:11 | Heb. 10:23-25 | Jam. 5:16 | Deut. 6:4-9 | Psalms 78:1-9 | Eph. 6:4